Yesterday was all about romance, today we let our green hearts speak again. That's why we've created a handy list of some of our most popular sustainability blogs for you.
Everything you always wanted to know about sustainability reporting: Part I CSRD
The sustainability reporting landscape is known for its many abbreviations. To name a few of them: TCFD, SASB, GRI, NFRD, SFDR, IR, EFRAG, ESEF. And then, there is CSRD.
What is a taxonomy and how can it be applied in sustainability reporting?
Preparing a sustainability report is time-consuming and laborious. Collecting the relevant data is
often difficult, as you need to source it from different departments Who may or may not communicate with each other. Comparing the data through time is also hard, as there are often no clear standards or benchmarks. Taxonomies have been used in financial reporting for decades to address these challenges, but what exactly is a taxonomy? What does using a taxonomy entail and how can it facilitate sustainability disclosure?
COP 26: There's Been Some Progress, But Is It Enough?
The Glasgow Climate Pact, a new deal to mitigate the effects of climate change, was struck last week at COP 26. However, the outcomes of the UN's climate conference are under heavy scrutiny and many would call them disappointing. In this article, we explore the key takeaways from the event seen through the 4 points on the COP 26 agenda: Coal, Cars, Cash, and Trees.
9 Tips to Get Started with Sustainability Reporting
Organizations face increasing demand to report on their sustainability performance. Business
partners, regulators, investors and other stakeholders require trustworthy non-financial metrics from them. With the upcoming Corporate Sustainability Reporting Directive (CSRD), 48.000 companies in the EU will have to report on sustainability in a uniform way. CSRD will be effective as of 2023. Now is the time to start thinking about creating standard and structured sustainability reports. Follow this nine point checklist to make progress quickly.
A Race to the Top: How We Get Banks to Involve Sustainability in Financing Decisions
To combat climate change and biodiversity collapse, we need a new investment paradigm. The barriers to achieve this are two-fold. On the one hand, corporate governance needs to change. On the other, we need a system of standardized metrics to hold companies accountable and facilitate that shift. Banks, in particular, should have a standard means to assess environmental harm and take sustainability into account when they provide loans or financing.
Reinier van den Berg: The Latest IPCC Report Shows US The Time to Act is Now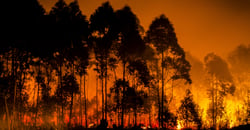 As we write up this article, the Dixie Fire is raging in California. The situation is so grave that it's generating fire tornadoes and enhanced lighting. Even bigger fires rage in areas of Siberia. Meanwhile in Spain, we're seeing temperatures soar well into 40 degrees celsius, and Sicily has topped European records with nearly 49 degrees celsius recorded.
It's been said that you cannot attribute isolated weather events to climate change, but you can attribute patterns. Today, the pattern is obvious and the latest IPCC (Intergovernmental Panel on Climate Change) report has issued its "starkest warning" on climate change yet. We spoke with Dutch Meteorologist Reinier van den Berg to get his biggest takeaways from the report.
The importance of stewardship in corporate sustainability
Nyenrode Business University is the top university for accountants and controllers in the Netherlands. The institution is also known for its commitment to sustainability and for its faculty's role in advancing the conversation around sustainable business in the country. We had the pleasure of speaking with André Nijhof, a professor and thought leader in the field. We were curious to hear his thoughts on the state of non-financial reporting in the Netherlands and some of the promising frameworks that are helping companies make progress in this area. Read the full conversation with Visma Connect's Sicco Brakema